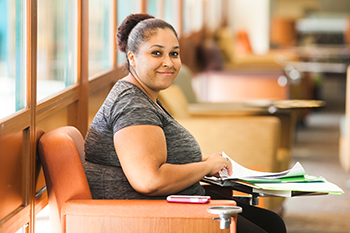 SANTA FE, NM – New Mexico residents looking to pursue a college degree or attain loan forgiveness may be eligible to benefit from the state's 26 scholarship, grant, loan-repayment, and loan-for service programs when attending a public higher education institution or tribal college in the state.
"Too few students know about the multiple financial aid options available to them right here at home, but we are working to change that," Acting Higher Education Department Secretary Stephanie Rodriguez said. "New Mexico has some of the most affordable colleges and universities in the country with quality educational programs, and combined with the many state, federal, and institutional financial aid scholarships and grants, an affordable postsecondary education is within reach for thousands of New Mexicans."
For the 2019-2020 school year, tuition and fees for public colleges and universities in New Mexico averaged just $4,843 per year for full-time in-state residents and $11,638.26 for out-of-state students, compared to the national average of $9,308 for in-state and $26,427 for out-of-state students. From Summer 2019 to Spring 2020, 33,574 New Mexico students benefitted from state financial aid programs in the total amount of $92.2 million.
State aid is awarded through the financial aid office at a student's college using information from the Free Application for Federal Student Aid, or FAFSA, which is also used to determine federal aid eligibility. Students and parents should complete the FAFSA as soon as possible to be considered for different types of aid, many of which do not require demonstrated financial need. New Mexico law does not require citizenship status in order for a resident to benefit from state financial aid programs, and financial aid offices have alternative applications for awarding students who are not eligible to complete the FAFSA.
The New Mexico Lottery Scholarship covers up to 75% of a student's tuition and fees at any New Mexico public or tribal college or university as long as students maintain a 2.5 college GPA, and enroll full-time within sixteen months of graduating from high school or attaining a high school equivalency credential. The New Mexico Opportunity Scholarship is available to any New Mexican over age 18 who is pursuing a two-year program at any public or tribal institution, and maintains a 2.5 GPA and full-time status, or 12 credit hours each semester.
The New Mexico Opportunity Scholarship is currently funded at $10 million and helps fill a student's unmet need, or the tuition and fees remaining after other state aid such as the Lottery Scholarship and Student Incentive Grants are applied. Any federal aid, such as Pell grants, and any private or institutional scholarships can be added last, meaning that students can use the remaining funds for other expenses such as room and board, supplies, transportation, and child care.
More than 15,000 New Mexico students have benefitted from the Lottery and Opportunity scholarships this year. The New Mexico Higher Education Department has also made accommodations for students who have lost eligibility for state financial aid as a result of the pandemic, extending through the Spring 2021 semester.
In many cases, receiving financial aid determines whether or not a student can pursue or continue higher education. "Without the Opportunity Scholarship, I would not have been able to fully register for fall classes, and I would be further behind on achieving my goal," said Ramon Trujillo, who is pursuing an associate's in Business Administration at the University of New Mexico's branch campus in Los Alamos. "The scholarship ensured that I had enough money to pay for all my schooling materials as well as the classes that were not covered by my federal Pell grant." Trujillo made the difficult decision to leave his job amid the COVID-19 pandemic, and is also balancing being a first-time father with attending school full-time.
As New Mexicans face the need to find family-sustaining jobs, higher education is expected to play a significant role in recovering the state's economy. The NMHED has asked legislators to support lowering the eligibility requirements for the Opportunity Scholarship from 12 credit hours to six (6) in order to support working students.
In addition to the Legislative Lottery and Opportunity Scholarships, the NMHED made an additional $29.3 million available to students this year in the form of competitive scholarships, college affordability grants, state work study, scholarships for veterans, and other state aid programs. Over 25,000 students benefitted from these programs in 2020.
The agency also provides loan-for-service and loan repayment programs for students and graduates in high-need public service fields including education, healthcare, social work, and law. More than 500 current and aspiring professionals are benefitting from these programs, which allow up to 100% forgiveness for federal and private student loans.
Full information about New Mexico financial aid opportunities can be found on the New Mexico Higher Education Department's website at www.hed.state.nm.us.