State reaffirms support for critical education and workforce programs helping over 10,000 New Mexicans
Gov. Michelle Lujan Grisham and New Mexico Higher Education Secretary Stephanie M. Rodriguez have been recognized by the National Coalition for Adult Basic Education (COABE) and the New Mexico Adult Education Association for expanding support for programs that provide essential skills training and credential preparation for over 10,000 New Mexicans. COABE named Gov. Lujan Grisham and Sec. Rodriguez as "Champions of Adult Education" for their ongoing leadership in addressing the career, technical, and educational needs of adult learners in New Mexico.
"Advancing educational outcomes for New Mexicans means investing in students at any age and any stage of their learning. I'm proud to support adult education programs that help people gain lifelong skills that benefit them, their families, and our entire state," said Gov. Lujan Grisham.
"Adult education is a hidden gem of education in New Mexico and continuing to support these programs unlocks the potential of thousands of New Mexicans, opening doors for them and their families while providing our state with a skilled workforce," Higher Education Secretary Stephanie M. Rodriguez said. "Together with Gov. Lujan Grisham and our dedicated partners at the New Mexico Adult Education Association and at programs across the state, we will keep breaking down barriers for students of all ages, backgrounds, and pathways to succeed."
As a top educational priority of Gov. Lujan Grisham's administration, the New Mexico Higher Education Department is seeking $9 million in the coming year, a $2.3 million increase, to enable the state's 26 providers to provide instruction preparing students to attain a high school equivalency credential, learn English as a second language, improve literacy, numeracy, and digital literacy skills, and train for in-demand careers. The agency is also requesting $400,000 to provide instructional materials and test vouchers for New Mexicans seeking to attain a high school equivalency diploma through an approved credential provider.
This past year, the Adult Education Division successfully increased enrollment in adult education programs by more than 20 percent with a small budget increase of $250,000 secured this past legislative session. Full funding for adult education and literacy programs remains a top priority going into 2023 to ensure these growing programs have adequate resources to address education and workforce needs in every community across New Mexico.
"In a nation where education is the key to uplifting individuals and communities, the work of the adult education field is essential. In order to achieve this work, we must have adequate and sustainable funding, and thanks to the amazing work of Gov. Lujan Grisham, Sec. Rodriguez, and the New Mexico Higher Education Department, the adult education and literacy budgets for the state of New Mexico have experienced increases in the past year, and we know that this work will continue," said New Mexico Adult Education Association President and Albuquerque Adult Learning Center Program Director Jamie Trujillo.
The New Mexico Higher Education Department awarded an additional $50,000 in total funding to five adult education programs demonstrating significant increases in the number of students earning a high school equivalency credential. The Adult Education Learning and Career Center at Diné College and the Adult Education Program at Eastern New Mexico University-Roswell each increased completion rates by more than 200 percent. The Pathways and Career Education (PACE) Program at New Mexico State University-Alamogordo, Clovis Community College Adult Education, and the Taos Education and Career Center (TECC) at the University of New Mexico-Taos more than doubled the number of students earning a credential.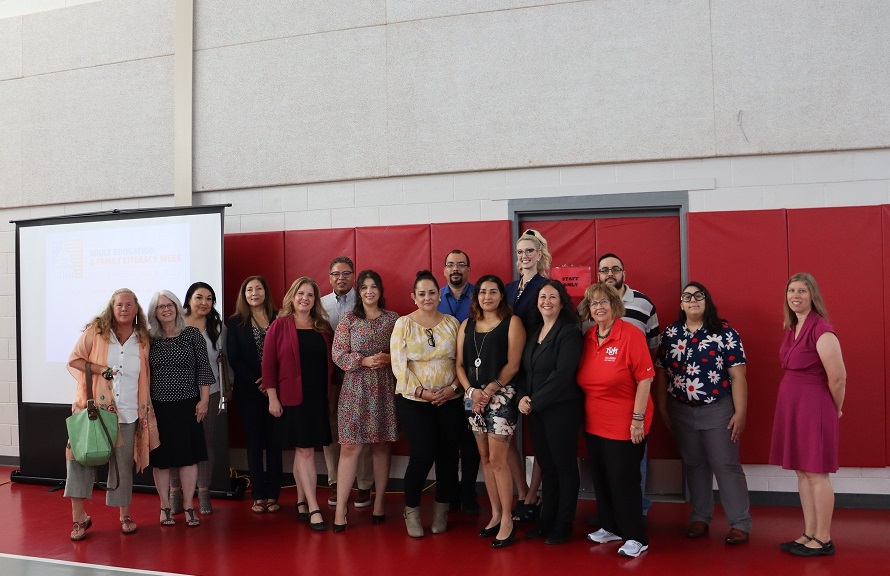 Secretary Rodriguez joined state adult education leaders at the Dennis Chavez Community Center in Albuquerque for an event kicking-off National Adult Education and Literacy Week this September.
Adult education and literacy programs play a critical role in helping individuals and their families to access better jobs, improved wages, better health, and a higher quality of life. Programs at New Mexico community colleges, universities, and community-based organizations, and in New Mexico correctional facilities provided basic skill, workplace preparation, and literacy services to over 10,000 adults last year. Over 2,400 students achieved measurable skills gain, with over 1,000 students earning a high school equivalency credential. Over 1,000 students enrolled in college or career training after participation in the program and more than 1,200 were employed.
"This year, there is quite a lot to celebrate in adult education in New Mexico. Our enrollment is rising, and our programs, which continued to serve students all throughout the worst parts of the pandemic, have undergone a decade's worth of technological transformation in just a couple of years, emerging with distance learning capabilities that are reducing barriers for students all over the state. Many programs are stronger, as their persistence and innovation during the pandemic brought out new ways to reach and retain students," said NMHED Adult Education Division Director Amber Gallup.
The agency joined NMAEA and New Mexico students and educators this month for an event recognizing Adult Education and Family Literacy Week. Students shared how state support for the programs has impacted them personally.
"Since I began adult education classes, my life has changed in many ways. First and most importantly, I regained my confidence, I feel like I'm the best example for my daughters, and I can see how proud they are of me. I have a dream to have my own business and I have gone to school to be prepared for the day that I open my business. I know that my story represents many others who also dream of having a better life for themselves and their families. For that reason, we need to support funding that affords the opportunity to study," said Marisela Ortega, a student in Central New Mexico Community College's ESL Program.
"For the past year and a half, I worked hard and dedicated my focus to completing my education. I now have doors opening for me that were once closed. I have a few promising career paths to consider that I think I would excel in, as well as make me happy. I would like to thank the New Mexico Higher Education Department and the legislature for their support in providing free programs such as this to the people in our community who need it. Without their support, and the support from my teachers and fellow classmates, I don't know that I would be here speaking today and proudly saying that I earned my high school diploma. I am truly grateful to everyone involved in helping me reach this major milestone in my life," said Richard Sandoval, a recent graduate from the Albuquerque Adult Learning Center.
For more information about free adult education and literacy programs in New Mexico, visit the New Mexico Higher Education Department's website at hed.nm.gov.