New Mexico Higher Education Department Secretary meets with inaugural group of dental students from New Mexico
The Hunt School of Dental Medicine at Texas Tech University Health Sciences Center El Paso has extended its reach into New Mexico this academic year, with new students from the Land of Enchantment beginning their journey as part of the class of 2026.
On Monday, Sept. 12, Secretary of the New Mexico Higher Education Department Stephanie Rodriguez attended a meet and greet with the New Mexico dental students, TTUHSC El Paso President Richard Lange, M.D., M.B.A., and Hunt School of Dental Medicine Dean Richard Black, D.D.S., M.S., after touring the school's new facilities. They were joined by NMHED Director of Academic Finance Harrison Rommel, Ph.D., as well as New Mexico community leaders whose gifts to the school have assisted with student scholarships, dental equipment and dental patient funds.
Also in attendance were members of the Las Cruces dental community, including Kimberly Martin, D.M.D., immediate past-president of the New Mexico Dental Association. Dr. Martin serves patients at University Family Dental, where one of the Hunt School of Dental Medicine's inaugural New Mexico students, Felicia Vallabh, shadowed Dr. Martin and her niece, Patricia Martin, D.D.S., during her sophomore year at New Mexico State University.
During the event, Secretary Rodriguez addressed students and attendees at the Texas Tech Dental Oral Health Clinic, the clinical practice of the Hunt School of Dental Medicine. At the clinic, students work with faculty providers to deliver high-quality oral health care to Borderplex residents.
In 2021, the Hunt School of Dental Medicine partnered with the NMHED to establish an agreement in which the state agency would cover the difference between in-state and out-of-state tuition for two New Mexico students. The students would otherwise be required to pay the higher out-of-state tuition to attend the Texas school. The funds are provided by the New Mexico Legislature and cover up to $20,000 in tuition for each student. The agreement is especially important now, as there are no schools of dental medicine in New Mexico.
Secretary Rodriguez's visit comes as students from the Hunt School of Dental Medicine's class of 2026 – the school's second class – begin their studies. The school offers the most innovative curriculum in the country, preparing students for the future of dentistry with high-tech simulation and an advanced fabrication laboratory.
A first for any dental school in the nation, students begin clinical training and patient interaction within their first semester. They are also required to learn medical Spanish, bridging cultural gaps as they embark on an educational journey focused strongly on public health.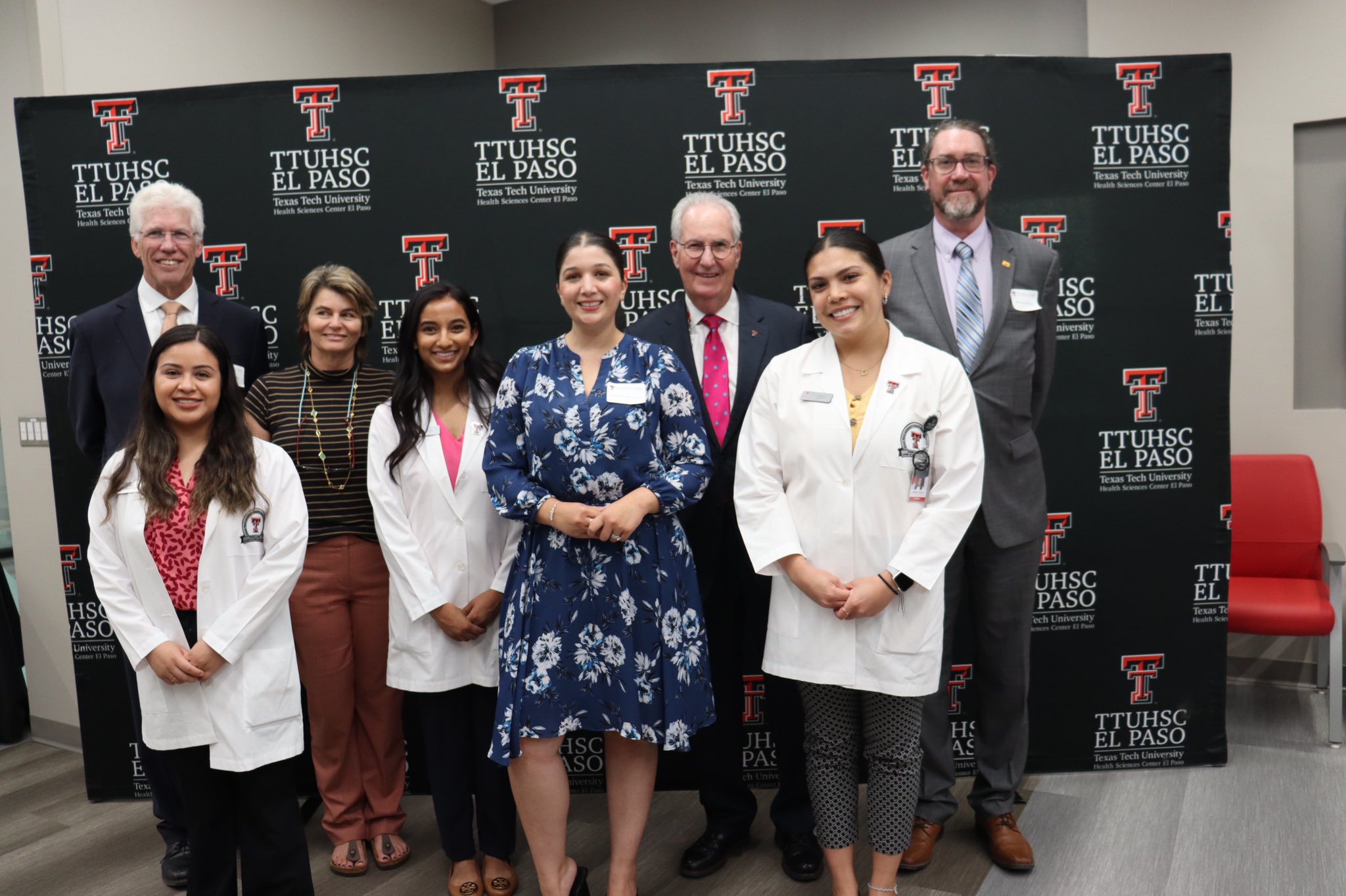 Vallabh, a Las Cruces native, joined TTUHSC El Paso and the NMHED last year as they announced the agreement. Then, she was past-president of the NMSU Pre-Dental Society and excited about the opportunities the agreement would present to her and her peers. Today, Vallabh is one of two Hunt School of Dental Medicine student recipients of tuition assistance associated with the partnership. She was joined at the event by fellow New Mexico students Nayeli Sanchez and Danielle Saucedo.\
"This program is monumental for New Mexico students," Vallabh said. "Very few of us were accepted into dental school this year, so the assistance is also encouragement for students from New Mexico to follow in our footsteps and pursue dentistry despite not having a dental school in the state."
Because most graduating dentists establish their practice in proximity to their dental schools, access to education at the Hunt School of Dental Medicine is crucial to combatting severe dental shortages affecting the Borderplex region.
As of 2019, there were 51.5 dentists per 100,000 residents in New Mexico, ranking the state 37th in dentists per capita for the U.S. In addition, 32 of the 33 counties in New Mexico are federally designated Health Professional Shortage Areas in Dental Health. This includes the nearby counties of Doña Ana, Otero, Lincoln and Hidalgo.
Access to dental care is especially needed in more rural areas of the state. According to the New Mexico Department of Health, inner-city and rural communities struggle to recruit and retain an adequate supply of dental providers and three New Mexico counties do not have a dentist.
Secretary Rodriguez said the opportunity for more New Mexico students to attend the Hunt School of Dental Medicine will greatly benefit the state's residents, from the life-changing education it provides for future health care leaders to its impact on patient care.
"Not only will attaining a Doctor of Dental Medicine open doors for students like Danielle, Felicia, Nayeli and their families, but it means that hundreds of New Mexicans will have access to quality dental care from highly trained professionals who know their communities," said Secretary Rodriguez. "I'm grateful to Gov. Michelle Lujan Grisham and our partners at the Hunt School of Dental Medicine for supporting New Mexico's future dentists."
So far, Vallabh and her peers have already participated in immersion courses that better familiarize them with the Borderplex community and its oral health needs. They'll soon take a seat in the dentist's chair at the Texas Tech Dental Oral Health Clinic, following the Hunt School of Dental Medicine's inaugural class, which has already provided more than 3,500 hours of clinical care for local patients.
It's the collaborative efforts of TTUHSC El Paso and the NMHED – as well as the community that surrounds them – that Vallabh said will make the biggest difference in the lives of New Mexico students and their future patients. She plans to return to Las Cruces or a rural New Mexico community to practice after graduation.
"The NMHED's investment in students like me motivates us to keep going. Without the assistance program, some of us wouldn't' be able to attend dental school," Vallabh said. "Now, we have the opportunity to have direct experience with the community in addition to receiving our education, and we'll be better clinicians because of it. Maybe one day we'll even return to New Mexico and open a dental school of our own."
More photos of the visit are available here.