Programs help thousands earn credentials, gain skills, learn English, and more
The New Mexico Higher Education Department is celebrating adult education and literacy programs that help thousands of New Mexicans across the state earn credentials, gain skills, learn English, and access college and career training during Adult Education and Family Literacy Week.
"Adult education equips New Mexicans with the education and life skills they need for social mobility and economic prosperity, and supporting programs that open up more pathways to more education and career opportunities can create transformational change in families, communities, and across our state," Higher Education Secretary Stephanie Rodriguez said.
The department funds and oversees 26 adult education programs and eight adult literacy programs in communities throughout New Mexico, working in partnership with New Mexico colleges and universities, local libraries and nonprofits, and other state agencies including the New Mexico Department of Corrections.
While programs throughout the state were faced with the need to adjust to remote learning amid the pandemic, state funding for adult education declined by 21 percent between 2019 and 2021. The department plans to prioritize the restoration of funding to these programs during the 2022 legislative session and is requesting an additional $2.5 million.
"Adult Education empowers New Mexicans to chart their own paths and breaks intergenerational cycles of low literacy, poverty, and poor health," Adult Education Director Amber Gallup Rodriguez said. "It also helps employers find and retain the skilled workers they need to succeed, plays a powerhouse role as an economic catalyst with a huge financial return on investment, and it addresses critical equity issues that our state and nation continue to grapple with."
Adult education programs are best known for providing instruction and testing leading to a high school equivalency credential (HSE), which students can attain by taking either the GED® or HiSET ® tests. Less well-known is that they also strengthen literacy, numeracy, and digital literacy skills, help students learn English as a second language and civics, prepare students to enter college and careers, and help parents and caregivers better support their children's learning needs. In addition, Integrated Education and Training (IET) programs provide career training alongside other skills instruction in the areas of healthcare, construction, technical trades, and more.
"What got me back at first was, 'how could I better myself?'," said Jeremiah Delgado, a student in Santa Fe Community College's Integrated Basic Education and Skills Training (I-BEST) program, which enables students to attain their high school equivalency credential while pursuing career training certifications. "I have instructors that are not just respectful but also motivating. I also want to be a great example for my daughter. I want to be able to show her that no matter how challenging life gets, you keep going." Delgado is completing a certificate in automotive technology and is a recipient of the New Mexico Opportunity Scholarship.
"Adult Education is more than a diploma. It is a pathway to a family sustaining career. It is a parent knowing how to help a child with homework. It is a child learning that it is NEVER too late to grow, change, and improve. It is an adult knowing how to be a voice in the community. It is how many New Mexico families will move from surviving to thriving. Adult education, put simply, is a foundation for everything," Albuquerque Adult Learning Center Director and New Mexico Adult Education Association President Jamie Trujillo said.
Programs overseen by the New Mexico Higher Education Department served over 5,300 adults over the past year. Participants generated an estimated $15.2 million in wages during that period, a more than 230 percent return on investment from state funds. New Mexicans earning a high school equivalency credential are also eligible to receive state financial aid upon enrolling in college, including the New Mexico Opportunity and Lottery scholarships. Nearly 500 students entered college or career training programs after completing their program in the past year.
Adult education programs that receive both state and federal funds serve a broad range of learners in a variety of formats, including flexible distance learning. Literacy programs often serve emergent readers in high supportive one-on-one and small group settings. They also provide instruction in English as a second language, numeracy, and digital literacy – skills that are necessary for social mobility in the 21st Century.
All programs are free to participants, with many offering online learning options, and the state offers test fee waivers for those seeking to attain a high school equivalency credential. To learn more or find a program near you, visit www.hed.state.nm.us.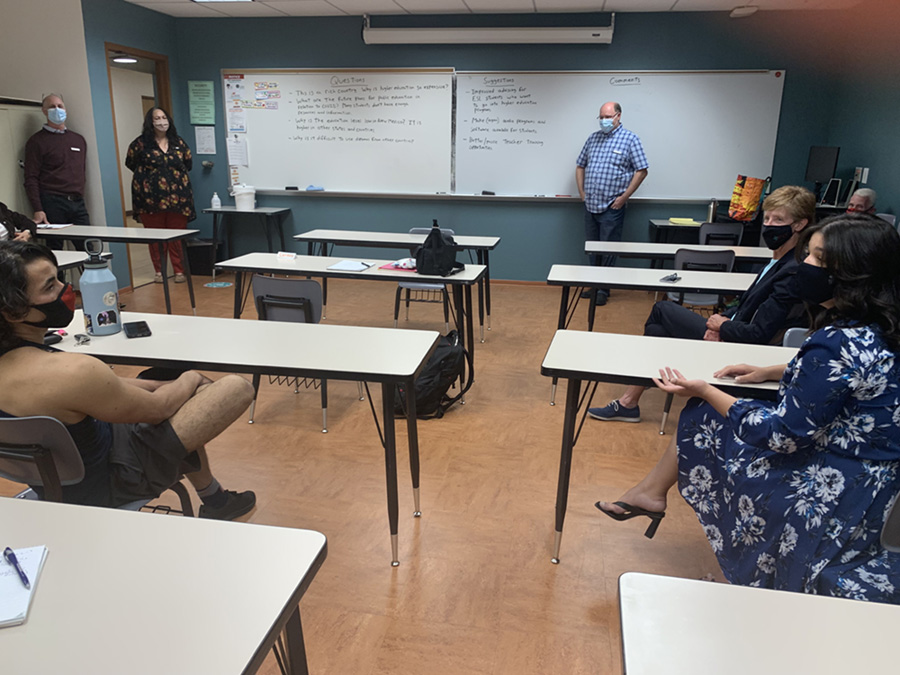 Secretary Rodriguez speaks with students in the adult education, literacy, and ESL programs at Santa Fe Community College on September 23.