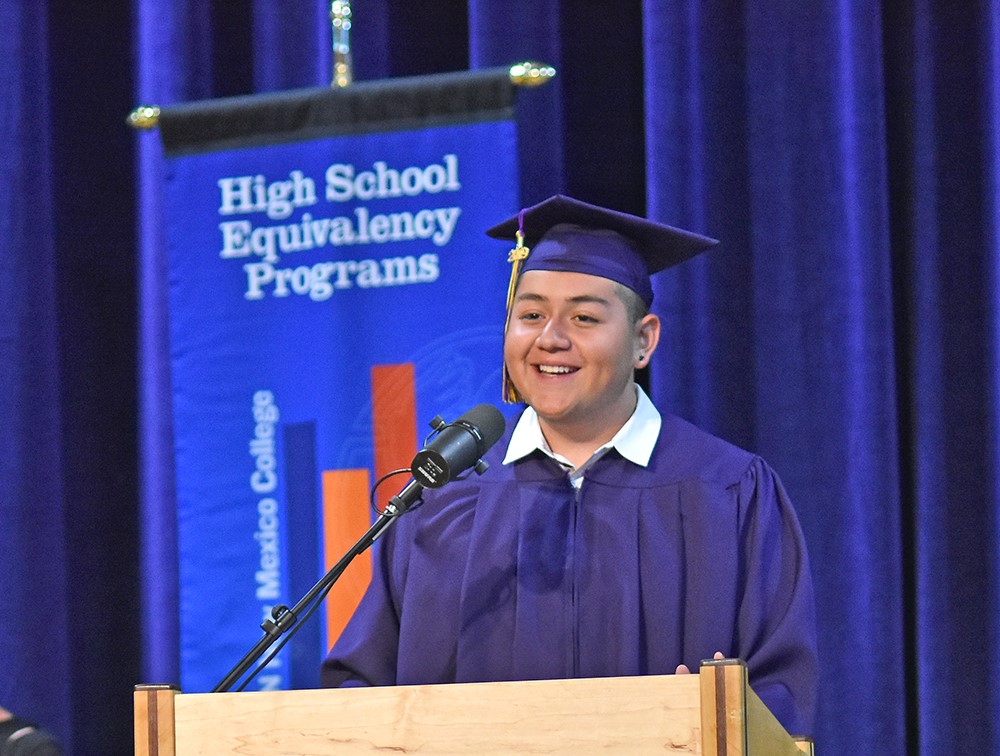 Photo by John T. Denne, courtesy of Northern New Mexico College
Santa Fe, NM – The New Mexico Higher Education Department has distributed 300 new Chromebook computers to Adult Education programs across the state to enable students to engage in online learning and work toward the attainment of a high school equivalency credential (HSE) in the midst of the COVID pandemic.
The computers, which were issued during National Adult Education and Family Literacy Week, are available for use by students in any of the 24 state-sponsored adult education programs operating across the state. Most Adult Education programs have shifted to distance learning in light of the COVID pandemic.
In addition, the New Mexico Higher Education Department will provide vouchers, waving the cost of testing for New Mexico residents wishing to take the HiSET® or GED®, the two approved High School Equivalency tests in New Mexico. Normally, the tests can cost between $50 and $80 for all required subjects. Students can submit a voucher application at https://hed.nm.gov/students-parents/high-school-equivalency/free-hse-testing-voucher-program.
"Lack of financial resources and lack of technology can be roadblocks for students in the pursuit of a High School Equivalency credential," Acting Higher Education Department Secretary Stephanie Rodriguez said. "We want to ensure that New Mexicans have the resources they need to continue their education, which is especially important for families and communities that have been impacted by the COVID pandemic."
State-sponsored adult education programs based out of New Mexico higher education institutions, community organizations, and state correctional facilities served over 9,500 students last year, and provide instructional and testing services to New Mexicans in need of a High School Equivalency credential. Eligible students age 16 and older receive instruction in core subject areas, and many programs also provide English as a Second Language courses.
Adult education programs also guide students into higher education, career training, and the workforce, with 79 percent of students employed and 15 percent of students continuing into higher education last year. According to the New Mexico Department of Workforce Solutions and the New Mexico Higher Education Department, in FY19-20, students exiting the program earned a total of $23.1 Million in wages, compared to the $6.2 Million state investment in Adult education programs. Many students who enter the program unemployed or underemployed report growth in employment and earnings after participating. In addition to higher wages for participants, adult education programs enable New Mexicans to be less dependent upon public assistance, and contribute to state and local tax revenues.
"Many people were struggling to make ends meet and improve their life situations before the pandemic," State Director of Adult Education Frances Bannowsky said. "Now even more people are struggling, and struggling harder. We want everyone to know that Adult Education is here to help."
Adult Education programs also help parents and caregivers support their children's learning needs more effectively, which could be crucial for families struggling to support children's schooling at home in the COVID environment.
For more information about New Mexico Adult Education programs and services, go to hed.state.nm.us or call (505) 476-8437.